Have you struggled to find quality web businesses for sale?
If you started like most buyers do, then you've probably looked at auction listings. You quickly realize that there's a lot to search through, and finding something you value can take far too long.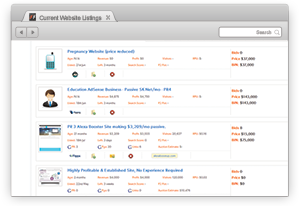 The natural progression is to look for web-based businesses listed on the sites of specialist brokers. You find that they either seem too expensive, or they're far from being a sure bet once you've analyzed all the information. Multiply this by five or so sites over three or more months and it's hard not to lose faith in the idea. It can seem like no matter how many websites you look at, nothing suitable in your price range seems to come up.
If any of this seems familiar, that's the reason I wrote this book.
Digitally Wed is about modeling what works for buying a profitable and sustainable website or internet business. This isn't just for investors who buy on a regular basis. It's worked equally well for many of my clients who were first time buyers, looking for a reliable way to replace their 9-5 income.
These are entrepreneurs, small business owners and retirees who have made profitable purchases regardless of how limited supply was at the time they were looking.
In the book, I show you how to identify and find the deals that the majority of buyers miss or overlook. These are the deals that will become reliable investments generating enough cash flow for you to replace your income, reinvest, or fund other pursuits with.
There are no magic formulas, unknown places where cheap websites are listed or 'super-secret-ninja-methods' for finding potential deals. We look at how to take what's already available, weed out the bad purchases and identify those that make profitable investments, by looking at factors and insights that the average buyer will miss.

This is business 101 combined with years of specialist experience in small internet businesses.